Marine Hoist
The boat and yacht handling crane includes the following items: main structure, traveling wheel block, hoisting mechanism, steering mechanism, hydraulic transmission system and electric control system. The main structure is N type, which can transfer the boat with height surpass crane's height.

According to different requirements of our customers, the yacht Crane can handling different tons boat or yacht from the shore side, it can be used for the maintenance on the shore side or can put the new boat into the water. It has soft and firm belt to lift the boat and yacht so that it will never hurt the surface. This crane also can put the boat in sequence quickly with small gap between each two boat.

Marine Hoist Features
1. For the crane traveling, this crane can move in diagonal direction, it also can steer in 90 degree and put the boat in any designated position according to requirements.
2. This product can be adjusted the width of the main girder according to the boat in case to handling different side boat.
3. This yacht handling crane is of low expense, high performance, easy to operate and maintenance and so on.
4. Low cost on the daily operation, it adopts the soft and firm belt to ensure there is no harm to the boat when hoisting.
5. It can make the boat in order quickly, it also can adjust the gap between each boat according to different condition.
Product Details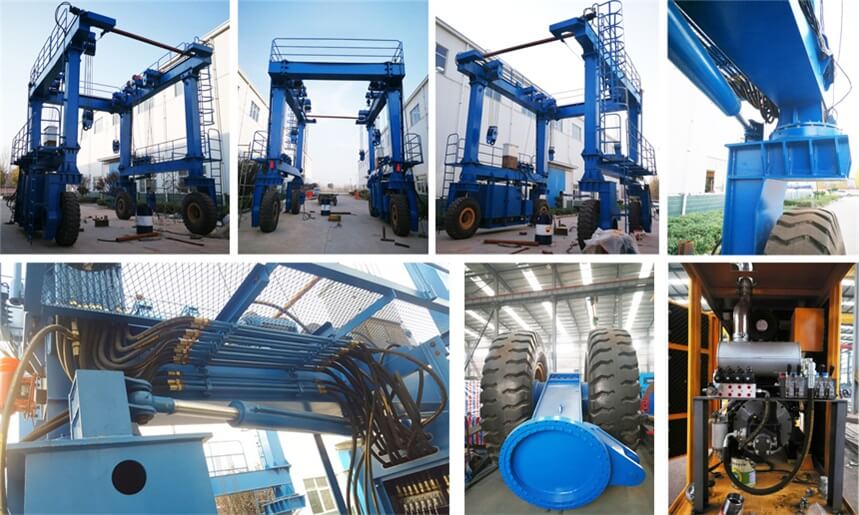 Main Technical Parameters
150 ton marine hoist main technical parameters for the reference
The boat size(L*W*H): 36000*7900*8400 (mm)
Capacity
150 ton
Lifting Height
10.5 m
Lifting speed (with full load )
0~1 m/min
Lifting speed (without load )
0~3 m/min
Travelling speed(with load)
0~30 m/min
Max gradient (with load)
4%
Diesel engine
132 kw
Hoist system/Hoist block
4/16
Sling length/Quantity
18/10 m/ton
Tyre number
8
Tyre size
21.00-35
Ground pressure
8 bar
Turning radius (Pivot steering)
7.5m
Turning radius (Ackermann steering)
15m
※PROTECTION DEVICE
Weight overload protection device
Voltage lower protection function
Emergency stop system
Crane Travelling limit switch
Ground protection
Audible and visual alarm