Precast Bridge Launching Equipment
Segment Lifter
Segment Lifter (referred to as bridge deck crane for pre-cast segment balanced cantilever construction) is mainly used for assembling construction of roads, cross river cross sea steel box beam of cable-stayed bridge, the equipment is installed on the bridge deck, and accurately and safely lift the steel box girder section from sea beam transport ship (or steel trestle bridge) to the bridge deck for assembling and welding, and it can also be used to hoist for other beam block or steel girder.

It is mainly divided into fixed deck crane, luffing deck crane and tower type deck crane and its derivatives products "shore crane"

Segment Lifter
Segment lifter also called bridge builder or Lifting frame, mainly adopts balance cantilever construction method for precast segment bridge construction and widely used in cable-stayed bridge.

Huada Heavy Industry has developed several types of Segment Lifter system tailored for the various erection requirements of pre-cast segmental viaduct. The technology has been used successfully to complete several large balanced cantilever bridges worldwide. The lifter is fitted with electric winches or strand jacks system and is launched forward by hydraulic system. The lifter can also be equipped with steel wheel/rails or rubber tyre mounted for increased mobility.

Main features
◆Segment Lifters are designed to install segments that weigh between 45 and 250 tons, in varied design configurations like ramps, in tight locations, or in areas that are generally difficult to access.
◆Segment Lifters are constructed from steelwork, however a Segment Lifter is not required to span from one pier to the next and consequently it does not contain as much steel as the launching truss.
◆A Segment Lifter is much easier to construct than a launching truss and is more versatile.
◆Two Segment Lifters work in tandem with its mirror equivalent, with one lifter erecting in one direction from the pier and the second lifter erecting in parallel in the opposite direction.
Main structure types
According to the design and site construction requirements, there are different structure types and we can provide customized design and solution. The general structure types are shown as below: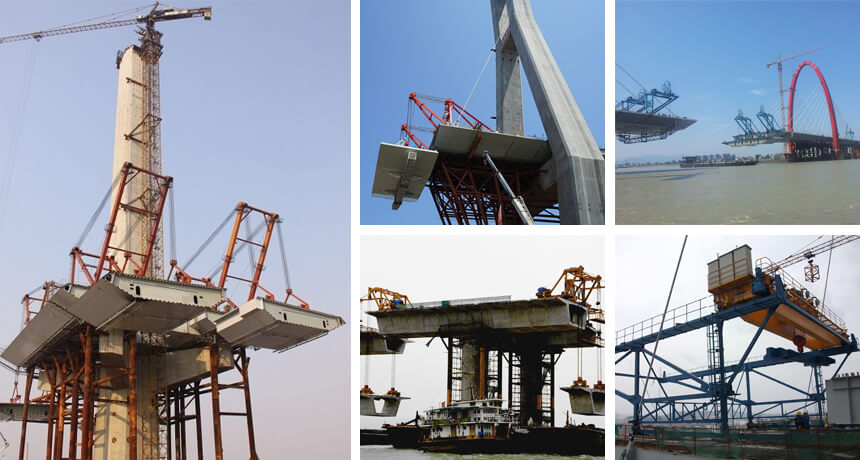 download
Product related information download
Inquiry
If you have any questions about our products, please contact us in time, we will reply to you the first time