Portal gantry crane, also known as a gantry crane or simply a portal crane, is a type of crane that is supported by a framework or structure on wheels or tracks. It is commonly used in ports, shipyards, construction sites, and other industrial applications for lifting and moving heavy loads.
The main characteristic of a portal gantry crane is its framework, which consists of horizontal girders or beams supported by vertical legs on either side of the crane. The legs are mounted on wheels or tracks, allowing the crane to move along a predetermined path. The crane is typically powered by electric or diesel motors for mobility.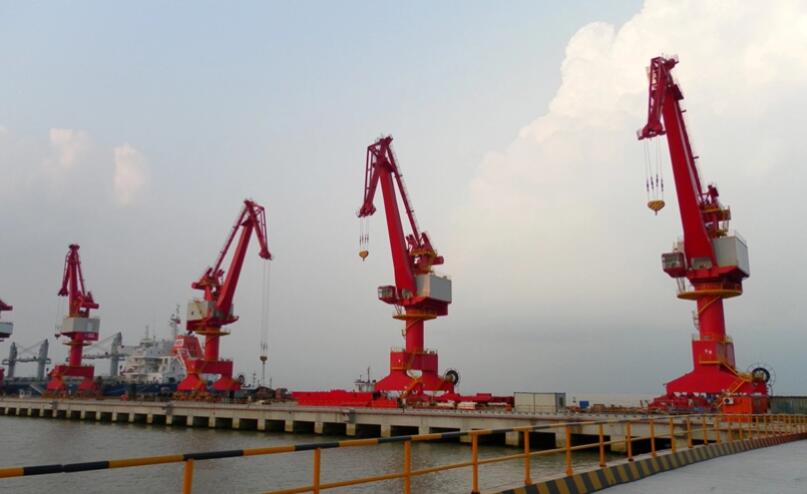 Portal gantry cranes are versatile and can be equipped with various lifting mechanisms, such as wire ropes, chains, or hydraulic systems. These cranes can lift and transport heavy loads horizontally and vertically within their operating range. They are often used for loading and unloading cargo from ships, moving containers, lifting machinery and equipment, and assisting in construction projects.
The key advantage of portal
gantry cranes
is their ability to span large distances and lift heavy loads with precision and efficiency. They offer a high level of mobility and can be easily positioned and relocated as needed. The portal design provides stability and structural integrity, allowing the crane to handle substantial loads safely.
Portal gantry cranes come in different sizes and lifting capacities to accommodate various operational requirements. They are typically operated by trained personnel who use controls to maneuver the crane, control the lifting and lowering of loads, and ensure safe operations in compliance with applicable safety standards and regulations.
Portal Crane jib crane referenced standards, GB17495-1998 Harbor Portal Crane technical specification, JT400-1999 harbor Portal Crane safety specification, GB3811-2008 crane design standards, GB6067-85 crane safety specification, ISO standards, FEM standards and JIS standards.
◆It uses grab, container spreader, magnet and hook, boasts high practicality and wide scope of application
◆It adopts optimized four-bar linkage so that the accuracy of level luffing is high
◆The operation device rotates 360°, widening the operation scope
◆It adopts PLC control and variable frequency speed control, so that is runs steadily and reliably
◆Intelligent structure gives excellent stability
◆SWL:8T~63T
◆Working Radius:15M~45M
◆Lifting Height:Above rail: 5-40m, Below Rail: 5-30m
◆Lifting Speed:25~60m/min
◆Luffing speed:30~50m/min
◆Slewing speed:1.5r/min
◆Traveling speed:15~30m/min
◆Working Duty: ISO M7/M8
◆Ambient Temperature: -40~40°C
Product Specification
3055
Group Classification Of Complete Machines
A5
Elevating Capacity
Lifting Capacity
t
Main Hook
Aux.Hook
120
40
20
Radius
m
24~33
24~60
28~65
Lifting Height
m
60
60
Working Radius
Max.




m
60
65
Min.




m
24
28
Speed Of Mechanism
Lifting Speed
m/min
6(12,<48)
15(30,<8)
Luffing Speed
m/min

~10

Slewing Speed
r/min
0.24
Traveling Speed
m/min
30
Power Source
3-phase A.C. 50Hz 380V
Track Gauge/Wheel Base
m
13/16
Clear Height Of Portal
m

~13

Tail Slewing Radius
m

~17

Rotary Disc Tail Slewing Radius
m

≤15

In-service Maximum Wind Pressure
N/m
250
Out of-service Maximum Wind Pressure
N/m
1000
In-service Maximum Wheel Pressure
KN
450
Steel Track Recommended
Qu50
Installed Capacity
kw
220