The Gantry Crane is composed with main girder, electric hoist, legs, ground girder, electrical device and long travelling device.

◆Customized design base on GB/ISO/FEM/DIN/BS standards.
◆High efficient, with the work class: ISOA3-A5, FEM 1m-2m.
◆The frequency-converter can be installed.
◆Remote control, pendant control can be equipped.
◆Inspection standard for load test: Dynamic/ Static load test 1.1 times/1.25 times.
◆Light self- weight & Small space use.

Main structure
◆When hoist is located at the mid-span, loaded with natural frequency of the main beam is less than 2Hz.
◆Main beam used European FEM standard off-track box beam.
◆High quality carbon steel Q235B or Q345B(16Mn).
◆Use submerged arc welding in main welding line.
Electric Hoist mechanism
◆Reducer gears and gear shaft using 42CrNiMo materials.
◆Wire rope breaking strength of not less than 2160N / mm2, the safety factor of not less than 5.
◆Motors imported from Germany, electrical connection sustained rate of not less than 60%, insulation class F, protection class IP54.
◆Maintenance-free electromagnetic disc brakes to be used
Ground Beam
◆Crane end beam adopt rectangular tube structure to avoid the deformation generated by welding.
◆Traveling mechanism using a motor, gear box, brake "Three-in-one " drive mode.
◆Motor protection not less than IP54, electrical connection sustained rate of not less than 40%.
Electric System
◆High protection class IP54.
◆Using Frequency converter device.
◆Module control speed, micro-speed and double speed are available.
◆Safety smooth slide wire, high conductivity, small pressure drop.
◆Have special access PE wire, all electrical devices dedicated line and PE line phase, and a ground network.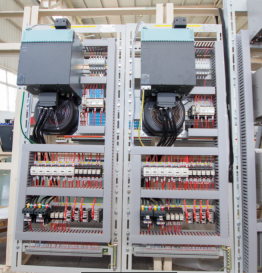 Single Girder Gantry Crane Main Specification