Rubber Tyre Container Gantry Crane /RTG Container Crane 
Rubber Tyre Container Gantry Crane
applies to international standard container transporting, loading and unloading at the container yard and railway container depots, with stable performance, high efficiency and ease maintenance having proper safety instructions and overload protection devices to maximize ensure the safety of operational personnel and equipment. Electrical system uses PLC frequency adjustment which can easily control every mechanism.
This kind of crane is divided into tire type and track type. The tire type has good mobility and small sensitivity on the surface roughness. This kind of crane using diesel generators for power supply can work under low temperature with its oil and hydraulic system has heating device. The crab of rail type can rotate and the over crab can pass the gantry legs making the scope of operations wide and flexible.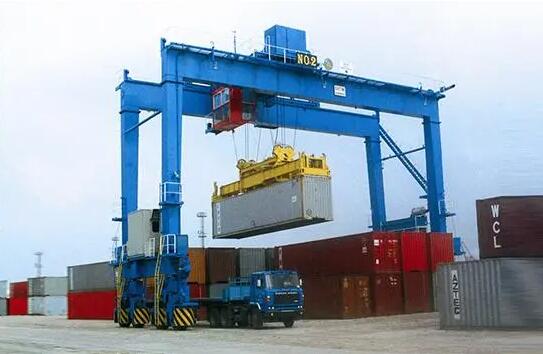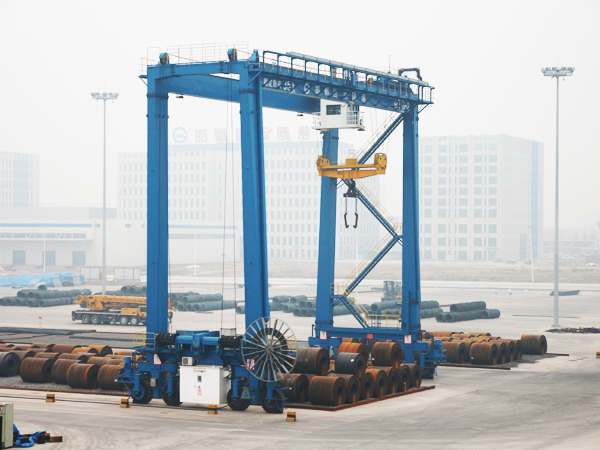 Professional Container Gantry Manufacturer & Supplier



Huada Heavy Industry has 15 years of experience in the design, manufacture, installation, and delivery of container gantry cranes. We are dedicated to providing gantry crane solutions for ports and terminals. There are various types, capacities, and sizes of container gantry cranes to meet the different needs of customers, including Rail Mounted Container Gantry Crane, Rubber Tire Container Gantry Crane, Container Straddle Carrier, etc. We can provide you with various competitive prices and High standard gantry cranes.
Every piece of equipment is designed and built to enhance productivity and safety. We not only design and manufacture gantry crane equipment, but also provide our customers with a comprehensive after-sales service to keep your cranes running smoothly. If you are looking for the right type of crane for the job, please contact our support team.

Rubber Tyre Container Gantry Crane Features
1. RTG crane, Rubber-Tyred Container Gantry Crane is dedicated machinery, container yard stacking operations are widely used in ports and container freight yard.
2. Using a dedicated container spreader which can lift 20 feet, 40 feet, 45 feet standard containers and hydraulic storage tanks.
3. Crane and trolley traveling mechanism adopt the three-in-one reducer, easy for maintenance.
4. Tires can achieve 90 ° turn, change field operations, and with the function of oblique 20 ° and 45 °.
Main Technical Parameters
Lifting capacity
ton
30.5-50
Lifting height
m
15.4-18.2
Span
m
35
Speed
Hoisting
12
m/min
12-18
24
24-36
Crane
45
Trolley
60-70
Working class
A6
Power source
3Ph, AC, 380V 50HZ
Working environment temperture
°C
-20~40
Advantages
► Mobility: Rubber Tyre Container Gantry Cranes are mounted on rubber tires, allowing them to travel independently within the container yard. This mobility provides flexibility in positioning the crane for efficient container handling, stacking, and retrieval.
► Rubber Tires: The container crane is equipped with large rubber tires that can traverse various terrains within the container yard. The tires are designed to withstand heavy loads, absorb shocks, and provide stability during crane movements.
► Electric Drive: Rubber Tyre Container Gantry Cranes are typically electrically powered, utilizing electric motors to drive the crane's movement and lifting mechanisms. Electric drive systems offer advantages such as reduced noise levels, lower emissions, and better energy efficiency compared to diesel-powered alternatives.
► Lifting Capacity: Container gantry cranes have a significant lifting capacity to handle containers efficiently. They can lift and stack containers typically ranging from 20-foot to 40-foot standard containers, and sometimes even larger containers used in specialized shipping operations. The lifting capacity depends on the specific model and configuration.
► Spreader and Twistlocks: Container gantry cranes are equipped with a spreader, similar to other gantry cranes, which attaches to the top corners of a container for lifting and moving. The spreader typically uses twistlocks to secure the containers during lifting and stacking operations.
► Outreach and Height: container gantry cranes have an outreach capability to reach containers stacked in rows. The outreach can vary, but it commonly extends up to six container rows. The lifting height can also be adjusted to stack containers multiple rows high in the container yard.
► Cabin and Controls: The operator of an container gantry cranes controls the crane's movements and operations from a cabin located on the crane structure. The cabin provides a clear view of the container yard and is equipped with control panels, displays, and communication systems for efficient and safe operation.
► Automation and Safety Features: Container gantry cranes can incorporate automation features and safety systems to enhance operational efficiency and safety. These can include anti-collision systems, positioning sensors, load monitoring devices, and remote control operation, among others.
► Power Supply: Container gantry cranes are typically powered by electricity. They are either connected to the local power grid or have onboard diesel generators for remote locations. The power supply configuration depends on the specific requirements and infrastructure of the container yard.