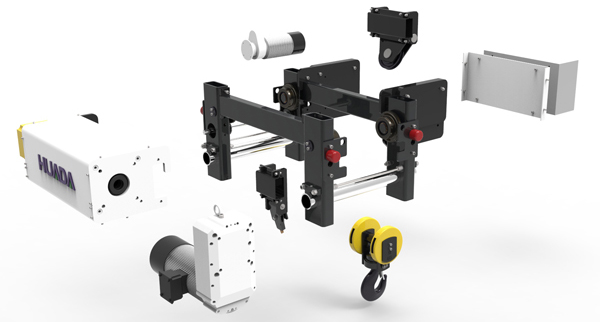 High Security
1. Security monitoring system equipped with overload limiter, and real-time load value is displayed in the screen to prompt the operator to prevent overloading.
2. The controller will perform a self-test before starting, including the power supply voltage level, default phase, button zero status and validity of each safety device.
3. Provided with four contacts spiral lift limit switch, alarm prompted when the hook close to the limit, when arrived at the limit the motor can automatically cut off the power to stop running, and has self- reset function, the motor is only able to run in the opposite direction, lifting mechanism with double spacing, to ensure that the hook doesn't point roof.
4. Rope imported from France, the breaking strength of not less than 2160N / mm2, the safety factor of not less than five.
High Reliability
1. Motors imported from Germany, electrical connection sustained rate of not less than 60%, insulation class F, protection class IP54. And it has overheated protection and alarm functions, motor housing made of aluminum alloy drawing molding with excellent heat dissipation.
2. Maintenance-free electromagnetic disc brakes to be used, turning into braking status when outage to ensure safety. Brake pad material is environmental and non-asbestos, brake built-in electronic modular system allows the brake fast and agile. The minimum safety factor is 1.8, safety brake times are not less than one million. Even in high temperatures and long time running can also ensure safety braking.
3. Reducer gears and gear shaft using 42CrNiMo materials, low-carbon alloy steel hardened by carburizing and tooth grinding process with the tooth surface hardness 60HRC more than six precision gear manufacturing.
4. Electrical components and parts select Schneider, Siemens, ABB and other international brands, electric control box protection rating of not less than IP54.
5. Run agency has horizontal guide rollers to prevent deviation and ensure that the trolley has smooth running performance.

High Efficiency
1. Lifting motor with squirrel-cage cylindrical 2/12 pole double speed brake motors, speed ratio 6: 1, hoist work duty can reach M6. Traveling device adopts frequency control, traveling speed at 2 ~ 20m / min.
Modular design
1. The overall layout is the parallel type (C-type structure), which means the drum is arranged through the gear unit and motor with a small limit size and compact structure
2. Using standard series of German import drive module, and contributed to rich product series with a different pulley ratio
3. Electrical interfaces adopt aluminum alloy standard plug-in, safe and convenient
4. Hanging detachable handle design
Humanization Design
1. Hoist operation and main beam running adopt variable frequency motor to realize steeples, which used in precision installation, with PLC programmable logic controllers to realize anti-sway positioning and other functions.
2. Electric Hoist has many excellent characteristics such as light self-weight, low height, sophisticated configuration, high transmission efficiency , low noise, energy saving. Its modular manufacturing process has higher maintenance-free rate and less wearing parts.
3. The electric door which is equipped with emergency stop switch is more secure and simple to operate. Its User-friendly design meets the ergonomic principle and has moderate operating sensitivity. The good operation hand feeling can reduce fatigue operation.
4. Ergonomically designed hook improves security and controllability.

Maintenance Free
1. First electric plug braking then rely on brake to make the brake more quickly and smoothly, and also greatly reduces brake wear. Due to the small wear, there's no need to adjust the brake and improves the life and reliability, maintenance-free for 10 years.
2. Reducer adopts a 10 -year maintenance-free design and has two-stage helical gears, gear precision more than seven, low noise, smooth operation. The iron reducer installed an internal magnet for attracting scrap iron and reducing gear wear. Reducer adopts sealing design, no drain and ventilation holes, mineral oil lubricate, free replacement for 10 years.
Europe type Electric Hoist Main Specification