Overhead Movable Scaffolding System
MSS is a Quick, Reliable & Economical Solution for Bridge Construction, it's a fully self-supporting formwork system that builds the bridges with span-by-span cast-in-situ method, it builds and relocated by itself from span to another span. MSS is very useful when Segmental construction or other cast-in-place methods are not economical or are not possible. MSS can be used for Double-T, Box girder or U-Shape bridges. MSS become most economical when the bridges to be built are below 50 spans.

Overhead MSS is very useful for building cast-in-situ bridges with low pier or varies type of pier. We supply steel formwork alternately timber and plywood sheeting formwork system can be used. We supply mechanical formwork for internal forming if the client needs it. We also supply special solution for double casting procedure on the Box Girder bridges which save times, equipment investments and labors. You are welcome to contact us for detail.

Our MSS for cast-in-situ bridges can offer many cost-saving advantages to your bridge construction projects, through:
• Optimized design
• Ease of assembly
• Efficient operation

Advantage
1. Compared with precast beam method, there is no need for large area of precast site, occupies less arable land, and has less interference on local roads. It is suitable for hilly areas and bridges and tunnels connected areas.
2. Compared with the large-scale prefabricated beam factory, the large-scale equipment of movable scaffolding system has less investment, shorter preparation time and can be produced rapidly.
3. Movable scaffolding system has a good adaptability, not limited by pier height, site, hydrology, geology and other conditions, can meet the requirements of various operating conditions, the field is flexible, easy to carry out parallel flow operation.
4. Compared with the scaffold method, there is no need for a wide range of scaffold foundations.
Product Application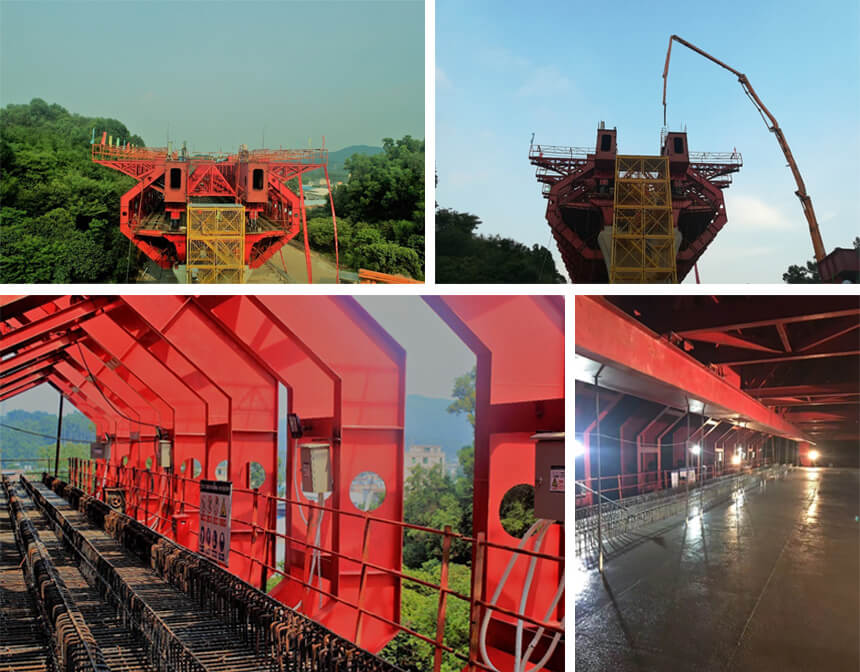 Main technical parameters
| | | |
| --- | --- | --- |
| Item | Description | Specification |
| 1 | Model | MSS-S |
| 2 | Span | 25m ~ 70m |
| 3 | Span weight Capacity | 380t ~ 2000t |
| 4 | Self-weight | 300t ~ 950t |
| 5 | Bridge Curvature Radius | 300m |
| 6 | Formwork Material | Metal Sheet or Plywood Sheet |
| 7 | Launching Mechanism | Hydraulic |
| 8 | Type of Bridges | Span by span construction, continuous or simply supported |
| 9 | Shape of Bridge Section | U-Shape, Double-T, Single Box, Double Box, Box with Strut, Concrete-Steel integrated bridge |
| 10 | Production Cycle time | 10 days – 14 days depend on site condition, machinery capacity, pier height, reinforcement fabrication method and internal forming system used. |
| 11 | Max. Bridge Longitudinal Slope | 7% |
| 12 | Max. Bridge Transverse Slope | 5& |