Huada Heavy Industry utilizes an in-house Precast Segment Casting Geometry Control Software with and/or without requirement of survey tower for the casting of the spans in the short-line Moulds.
Short Line Assembly Precast Segment Mould Operation Test
Huada Heavy Industry can offer an introduction instructional course regarding Segment casting as follow:
1. Introduction-Terminology of precast segmental bridge.
2. Long Line Mould & Short Line Mould Casting method.
3. Dry joint & Glue Joint match casting.
4. Span by span vs
balanced cantilever
erection method.
5. Setting up a Casting Yard (what are the considerations?).
6. Casting yard working flow.
7. Concrete mix/method of concrete placing/ placing sequence.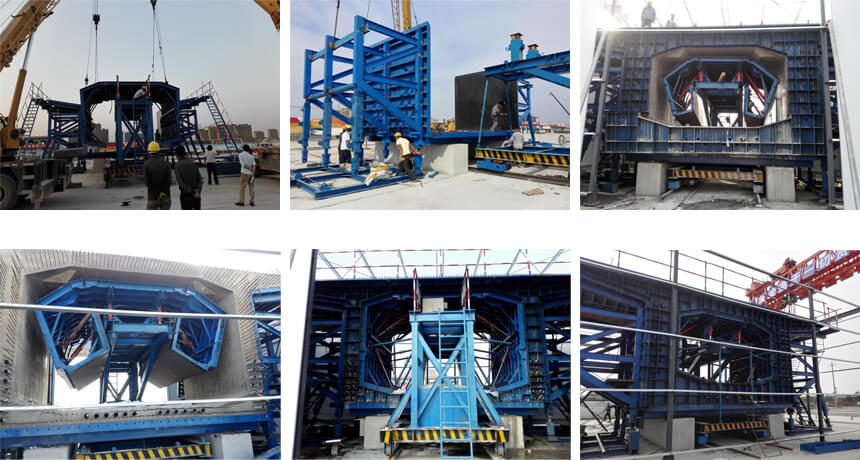 The hydraulic precast T Beam formwork system designed by Huada Heavy Industry heavy industry is used widely in railway & highway bridge. The whole system was produced by using automatic and full hydraulic progress. All the formworks are connected by pin connectors. It has the advantages of short curing period, easy to operation. This formwork system is got praised by domestic & foreign experts and supervision engineer.
Specification
T Beam is precast at the beam fabrication yard. The T Beam Mould are composed by high and low side mould, bottom mould and end mould. Compared with the rectangular beam, T Beam can save concrete, reduce self-weight and improve the spanning capacity.
The processes of T Girder formwork was adopted integrated paving and assembly welding method. Make sure that close piecing and without height different and ensure that its overall size for the formworks. The diaphragm plate formworks of T Beams which should set the ejection gradient according to the principle of "big top and small bottom" and "small inside and big outside".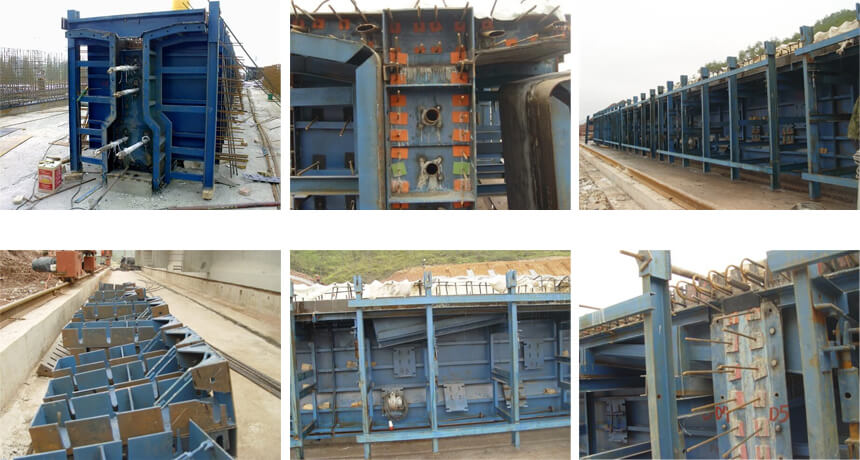 With the rapid development of urban rail transit project, the U Girder is used more widely in viaduct. Currently, U Girder is one of the most innovative viaducts that were used in urban rail transport. It have the advantages of noise-reduction good effect, low building height, high space utilization and good appearance. With the progress of technology, construction method changes from cast-in-place to precast hoisting. Use double crane lifting or gantry crane lifting to hoisting the U Beam.
Huada Heavy Industry is the professional enterprise to design and manufacture U Girder Formwork. The U Beam is applied to Shanghai Urban Rail Transit, Qingdao Intercity Rail, Pakistan Light Rail, Dubai Light Rail etc. successfully.
Specification
1. Precast U Girder Mould structure: outer side formwork, inner formwork, bottom formwork, support lead screw, JACK, work platform, Vibrator, crawling ladder, blanking plate etc.
2. Formwork structure form:
2.1 Outer formwork cover bottom formwork, inner formwork and outer formwork clamping blanking plate.
2.2 Inner formwork fixed by cross beam and outer formwork. At the upper part, the inner formwork adjusted and fixed by upper Jackscrew. The inner formwork is supported or closed by hydraulic cylinder. With the advantages of high-automatic, short construction period, improved the construction efficiency.
2.3 Outer side formwork is connected with ground hinge axis. The outer side formwork is supported by Jack and lead screw to make the outer formwork open and close integral. It is easy to operate and greatly protects the U Beam not being scratched when hoisting the beam.
2.4 The rubber seal is used between the outer formwork, inner formwork and bottom formwork. To make sure not leakage.
2.5 The bottom formwork design width of bottom die block form with regulation. According to the line spacing adjust the block, to meet the requirements of U Beam precast.
2.6 Cross the Vibrator at inner formwork and outer side formwork. That improved the concrete density and appearance.
3. Rotate outer formwork outer side formwork integrally.
4. Outer formwork adopts integral fixed structure.
5. Support or close the inner formwork integrally.